Happy New Year! Now that 2022 is behind us, what are forecasters predicting for the 2023 housing market? Are we going to see a market crash or interest rates continue to climb higher and higher? 
Should you be waiting to buy that home or for the market to go back up to sell?
The answer to all of these questions and more are in this video 👇
Will it be the year of the Buyer? the Seller, or both?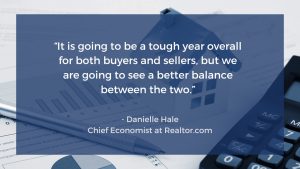 We feel that most of the dramatic shifts in the 2022 market will taper off. Sellers will continue to see home prices keep climbing at a moderate rate but with longer days on the market. We anticipate that sellers can expect to see home appreciation rise around 5.4% this year, which is a significant drop from previous years but not a drastic decline as initially predicted.  Homeowners should continue to see their home equity rise this year to an average of $25,000.
For Buyers, we expect that they will see more homes on the market.  In fact, housing inventory is predicted to be up 22.8% from 2022, giving buyers more homes to choose from.  This increase in inventory is still lower than pre-pandemic, which will help sellers. Mortgage rates are predicted to remain high, averaging about 7.4% for most of the year, and then taper off.  This could affect overall home affordability making fewer people able to buy.
Combining all these factors, it's no wonder it could be the year for both the buyer and the seller.  As always, it is best to consult your trusted real estate professional to give you the latest local market updates and insights.
For professional Real Estate needs:
Feel free to reach out to me so we can help you make the most informed decisions, whether buying or selling in 2023. Let's talk about your home goal – Click here!
CHECK OUT MY YOUTUBE CHANNEL!
Find more videos about real estate, life, community and even fun but educational videos at Betsy Taylor Homes!