Have Rising Mortgage Rates Affected the National Housing Market?
Many people are guessing that because mortgage rates are on the rise that it means that home prices will start to fall or worse we will have a housing crash. According to the experts, that's not the case at all. Here's the national housing market update as of April 2022.
Let's start off with this data from Freddie Mac: Mortgage rates started out at 3.11 % for the average 30-year fixed at the beginning of 2022, and they have just steadily climbed since then, up to 5.28% is the latest data as of late April.
A quote from Freddie Mac says: "Mortgage rates are likely to continue to move higher throughout the balance of 2022. Although the pace of rate increases is likely to moderate, much of the increase in rates in early 2022 is in anticipation of what will happen later this year, especially with Federal Reserve interest rate policy."
Mortgage Rates will Continue to Rise
So, as we look at mortgage rates rising, we are projected to see them continue to increase, but at a more moderate pace. The big question people are asking is what's going to happen to home prices as mortgage rates rise? A lot of people think that when rates go up, prices go down.
So let's look at some historical data from October of Nineteen ninety-three, almost 30 years. It shows you that there was an average of about an eight percent home price appreciation as mortgage rates were rising by more than a percentage point. We know as rates rise that it tends to sometimes reduce buyer activity because some people are simply priced out of the market, but a lot of buyers just have to look at homes that are priced a bit lower than they originally were looking to buy.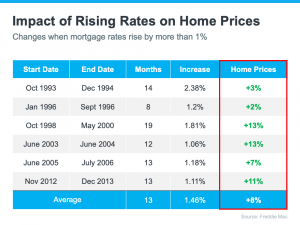 Inventory is Still Low
Housing inventory on the market and for sale today is lower than it was in January of twenty twenty-one. January 2021 inventory was historically low then so now we are even lower- much lower.
Supply and demand are discussed a lot when it comes to our economy, and that in a nutshell is what drives home price appreciation. When we think about home prices and home sales, we also have to think about buyers. Are they still out there looking to buy? And based on the data by showing time, the answer is a resounding yes. Showings right now actually exceed where we were during the pre-pandemic.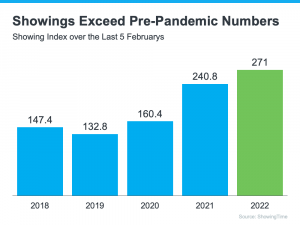 So when you see headlines about a softening in home sales now, it's not because of rising mortgage rates. It's because there aren't enough homes for buyers to buy. Buyers who want to buy can't find or can't get into a home because of being beaten out by higher and possibly multiple offers. Home prices are projected to continue rising. The number of homes for sale on the market is still very low.
Increase in Mortgage Rates Means Price Increases will Slow
NAR is saying. "While higher short-term interest rates will push up mortgage rates I expect some of this impact to be mitigated eventually through lower inflation. Thus, I expect the thirty year fixed mortgage rate to continue to rise, although we aren't likely to see big jumps that occurred over the past few weeks." So what is this saying? It's saying inflation is driving this increase in mortgage rates. I expect it to continue to rise, that's what I've been saying. I've been sharing with you what the experts are saying. But it won't be quite as a rapid pace as what we've seen over the past few weeks.
Freddie Mac is saying. "History suggests that when rates rise, there is an initial bump in home prices, as many move quickly to buy a home before rates increase further. But after that period, home prices slow. Freddie Mac analysis shows that a one percent increase in mortgage rates results in home price appreciation that is four percentage points lower. For instance, a one percent increase in mortgage rates would change home price growth from eleven percent to seven percent." A still very strong appreciation.
So Freddie Mac is saying that home price appreciation will slow- not drop. Higher mortgage rates will slow some of the frenzy, but for those of you that have been worried about it or wondering when the big drop will come, we're not talking about depreciation. We're talking about a softening, a deceleration in housing prices, and that will help slow some of the craziness we've been seeing as we move forward in the housing market.
Market will Continue to Increase Prices
Mike Simonsen from Altos Research said it best. He said "We keep watching for it, but there are absolutely no signs of market slowdown anywhere in the data. If anything we're seeing the market continue to heat up."Now let's look at traffic maps. NAR just came out with the most recent buyer and seller traffic maps. As you can see with the buyer traffic map, with very few exceptions, you can see very strong buyer traffic across the United States. Any time we're in this type of market and we have strong buyer demand, the lack of sellers keeps that upward pressure on prices.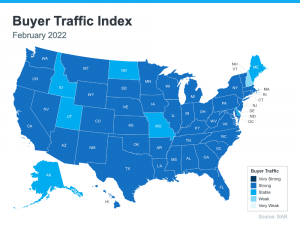 Fortune magazine just came out with an updated forecast and they say now more industry insiders are throwing out their previous forecasts and replacing them with more bullish short-term looks. Some experts say the twenty twenty-two spring housing market might go down as one of the most competitive on record!
Inventory is the Real Problem
We simply cannot reach the market potential for homes because we don't have the number of homes to be able to sell for the number of people that want to buy them. Any time we're in this type of market and we have strong buyer demand, the lack of homes on the market keeps that upward pressure on prices.
Interesting side note; back in the 70s and 80s, there were more homes built and completed in this country than there have been in the last 14 years. This is mainly because of the housing crisis in two thousand eight. Builders are being hit extremely hard by building material costs and have been building back slowly to their capacity, or their ability to bring new builds to market. So not only is the lack of resale homes part of the issue but so is the lack of new-build homes.
Inflation is a Concern But Shouldn't Affect Prices
The other big concern for a lot of consumers this spring is inflation. Everything is costing more- from milk, TP and gas for your car. I filled my car the other day and it was over one hundred dollars- I'm sure many of you can relate!This is a graphic that shows homeownership as a hedge against inflation, and that's what I want to be able to show people. When you're in an inflationary economy, you want to be invested in hard assets that outperform inflation. And this graphic is going back all the way to the 70s- probably before many of you watching were born. The blue bar is the inflation rate. The green bar is home price appreciation.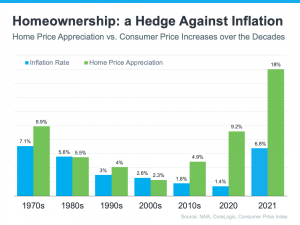 Most decades, home price appreciation outperformed inflation. So while you may be thinking you should wait for home prices to go down, or for the market to crash, I would suggest you take a look at the facts and listen to what the experts are saying.
Home Price Appreciation will Continue
On average they are showing that home price appreciation for twenty twenty-two will be on average around six point seven percent.   Zelman is saying three percent, and CoreLogic is saying nine point six percent, but every single expert source is saying there will be appreciation as we continue through twenty twenty-two. No one right now is forecasting a downward trend in prices.
So now really is a great time to buy, before the continued appreciation of prices. If you bought your home more than 2 years ago, you have been gaining equity at a rate over 3 times what was predicted! So if you've been thinking of selling, now is also a good time to sell!