Welcome to the neighborhood of Kentlands. A vibrant and dynamic community located in Gaithersburg, Maryland. It has tree-lined streets, charming homes and white picket fences. It's the perfect example of the ideal American neighborhood. 
In this video below 👇 we'll be exploring this amazing neighborhood and everything it has to offer.
The Kentlands neighborhood was first established in the 1990's. It is considered one of the first "New Urbanist" communities in the United States. The award-winning community was designed to promote a sense of community. Encouraged people to walk, bike, and interact with their neighbors.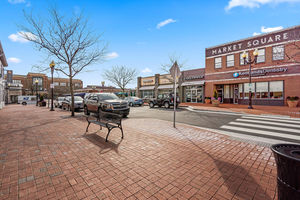 Because of this premies, homes are built close together with sometimes only 8 feet between homes. The homes are usually close to the sidewalk and street. The neighborhood features a lively town center, with shops, restaurants, movie theater and offices. Surrounded by parks and green spaces.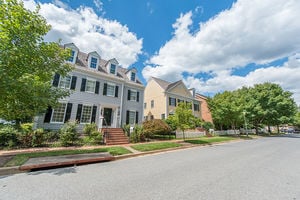 The homes in Kentlands are as diverse as the community itself. From historic Victorian-style homes to traditional colonial designs, there's something for everyone. The home prices in Kentlands range in prices:
1. Condominium: Roughly $300,000
2. Townhomes: $600,000 – $700,000
3. Single Family Homes: $8000,000 – $1.4M
The neighborhood is known for its strict architectural guidelines. Which ensure that all homes are well-maintained and have a cohesive look. So, if you are the type to paint your home a crazy color, Kentlands may not be for you.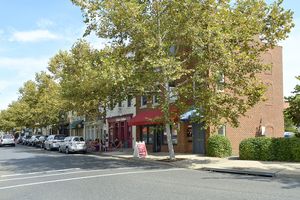 In addition to its beautiful homes, Kentlands has a lot to offer in terms of amenities. The community has a shopping center, movie theater, and a number of restaurants, and small shops. Making it easy for residents to enjoy a night out without having to leave the neighborhood.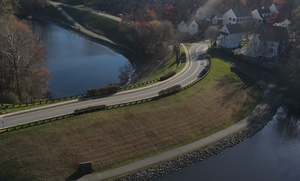 There are also a number of parks and green spaces in Kentlands. The Kentlands Mansion, Green  and Gardens, which are popular spots for picnics, weddings, and other events. In addition, the community has several lakes, Inspiration Lake, Lake Helene and Lake Nirvana. Which provide picturesque walking trails and fishing.
The community is also home to the Gaithersburg Arts Barn which hosts artists' wares, art, theater and movement classes as well as theater productions.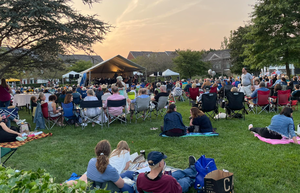 Kentlands is not just a place to live, but a community that brings people together. Throughout the year, the neighborhood hosts a variety of events and activities. Community fairs like the Gaithersburg Oktoberfest and farmers markets every weekend. The Summer Lawn Series featuring local bands and the critically acclaimed Musica Viva concerts on the lawn.
The community also offers holiday celebrations such as the Breakfast with the Easter Bunny and egg hunt. July 4th community parade and festival. The Kentlands Tree and Menorah Lighting and Holiday party with horse drawn sled rides.
There are also opportunities for residents to get involved in clubs and organizations. The Bridge Club, Garden Club, the Needle Arts Society, Wine club. The Rock and Blues Club, Acoustic Jam, Film Society and KCA Green Team.  
Individuals can also be involved in the governing of the community. Joining a committee such as the Kentlands Historical Trust, Budget and Advisory Committee or run for a position on the HOA board. 
Kentlands also offers a range of recreational options for residents. The community has several parks, including the Kentlands Mansion, a beautiful park and event center. There are also walking and biking trails, as well as fields and playgrounds for little ones. Courts for basketball, tennis and the recently added pickleball courts.
The Kentlands also has two community pools- one for social swimming and a competitive or lap pool. Where the Kentlands Kingfish, the community swim team, has a strong swim team program for kids from 5-18. Runs from the end of May to end of July. 
For families with children, Kentlands is a fantastic place to call home. With top-rated schools and a range of educational opportunities. The neighborhood is served by the Montgomery County Public School system, with several excellent schools located within walking distance. 
The elementary school that serves Kentlands is Rachel Carson Elementary which is a blue-ribbon school. The middle school is Lakelands Middle school, located in the Kentlands sister community Lakelands. The high school is Quince Orchard High School just a short walk across route 28. If private schools are of interest, there are several within driving distance.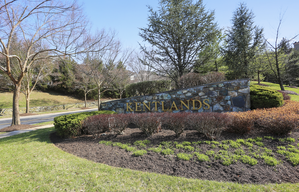 Finally, let's talk about the lifestyle in Kentlands. What sets this neighborhood apart is its tight-knit community. With its focus on community events, sidewalk chats, and neighborhood clubs and gatherings. Kentlands truly is a place where people know their neighbors and look out for one another.
Whether you're looking for a place to call home, a vibrant community to be a part of, or just a great place to visit, Kentlands is an amazing neighborhood.The future looks bright for Kentlands. With ongoing efforts to continually improve the community and continue to attract new businesses and residents. This neighborhood is poised for continued growth and prosperity.
Whether you're looking to buy your first home or settle down for retirement, Kentlands is the perfect place to call home. Come see for yourself why this neighborhood is truly one of a kind.
If you are thinking about moving to Kentlands or Montgomery County Area,
CLICK HERE to get my Montgomery County Community Guide, ABSOLUTELY FREE!
CONTACT ME for professional real estate advise about moving or selling.
CHECK OUT MY YOUTUBE CHANNEL!
Find more videos about real estate news, market updates, life, community and even fun but educational videos at Betsy Taylor Homes!